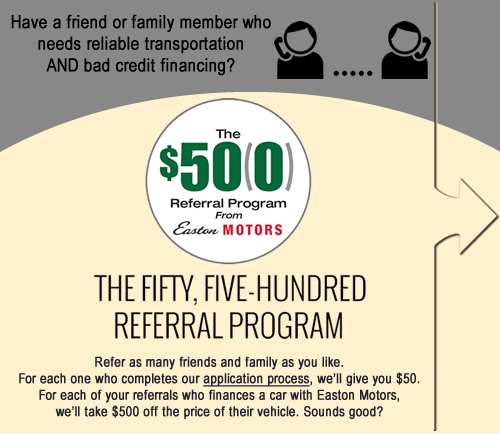 You must have a current account in good standing in order to join the Easton Motors Referral Program. If you are not in good standing but still wish to refer friends and family, your credits will be applied once your account has been rectified.
"Application process" includes a completed credit application, proof of current income, and your required amount of references on hand. All steps must be completed before credits can be made to either account. Refer as many people for our bad credit car loan program as you want (excluding spouses and Easton Motors Team Members).
Referrals MUST mention The Fifty / Five Hundred Referral Program during their credit application process. Referrals can either mention the program in the comments section of the Easton Motors credit application, over the phone with a Finance Specialist, or in-person at any of Easton's Wisconsin branch dealerships. The Fifty / Five Hundred Referral Program from Easton Motors will expire on December 31, 2018, and is subject to change without notice.
Enrolling Without Referrals
Easton Motors customers who wish to may enroll in the program and make referrals at a later date. To enroll in our rewards program without making any referrals, simply fill out the form with as much detail as you currently can, or speak with your Easton Motors finance specialist about enrolling. This will help you stay notified of special offers and promotions for referrals throughout the course of the year.