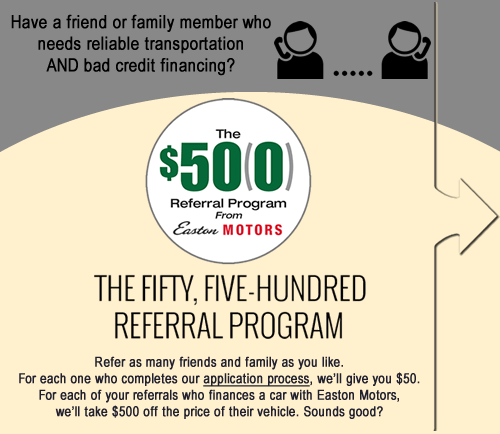 Easton Motors is proud to announce our new rewards incentive, The Fifty / Five Hundred Referral Program.
You must have a current account in good standing in order to join the Easton Motors Referral Program. If you are not in good standing but still wish to refer friends and family, your credits will be applied once your account has been rectified.
Here's how it works:
Refer as many people for our bad credit car loan program as you want (excluding spouses and Easton Motors Team Members) by sumbitting this easy form
Referrals MUST mention The Fifty / Five Hundred Referral Program during their credit application process. Referrals can either mention the program in the comments section of the Easton Motors credit application, over the phone with a Finance Specialist, or in-person at any of Easton's 8 Wisconsin branch dealerships
If, and when, those referrals complete and submit a full credit application to our underwriting division (this includes having all of their paperwork and references submitted), we will immediately credit you for the referral and mail you a check for $50
If, after completing the credit application, your referral decides to finance a car with Easton Motors, we will knock $500 off the sticker price for their vehicle
Once you have made a referral, your enrollment is considered "active" and you are allowed to continue referring friends and family to Easton. There is no limit to the amount of checks you can receive
The Fifty / Five Hundred Referral Program from Easton Motors is subject to change without notice.
The Referral Program is open to all of Easton's current customers in good standing with Creative Finance, and checks will be mailed as soon as referrals are received.
"Application process" includes a completed credit application, proof of current income, and your required amount of references on hand. All steps must be completed before credits can be made to either account. Refer as many people for our bad credit car loan program as you want (excluding spouses and Easton Motors Team Members).
Enrolling Without Referrals
Easton Motors customers who wish to may enroll in the program and make referrals at a later date. To enroll in our rewards program without making any referrals, simply fill out the form with as much detail as you currently can, or speak with your Easton Motors finance specialist about enrolling. This will help you stay notified of special offers and promotions for referrals throughout the course of the year.
Not a customer but know someone who needs reliable transportation AND bad credit financing?
Easton Motors will allow non-customers to refer up to 5 friends and family during this special promotion as long as the referral meets all requirements. This incredible program might not come around again, be sure to take adavantage of this incredibly easy way to earn some extra cash.
Fill out the form today, it'll help someone you care about and make you some easy money in the process.
Still have questions? Feel free to email us directly at lfaul@eastonmotors.com
The Referral Program begins 4/1/22 and ends 12/31/23. The program may not be combined with other incentives, offers or promotions.